To aid social distancing and allow us to control the capacity of our facilities at all times, all classes, gym & swimming sessions MUST be booked in advance.
You can book ALL of your gym sessions and classes from the comfort of your own home; giving you 24/7 access to gym and class bookings at the touch of a button.
This page is dedicated to providing you with all of the information you need to know about our app, how to use it an answer any questions you may have.
How to create your Impulse Leisure login
Before you can book any gym sessions or classes through the app, yuo will first need to create an account. We have introduced a new booking system where you will need an email address to create your new online booking account.
Even if you have used the app before, you will now be required to create a new account with your email to book your sessions.
To create your account, please click here and enter your email address and request a password.
If you do not receive your reset email, or experience any issues please check out our FAQs below for the reasons why this could be and how you can resolve them.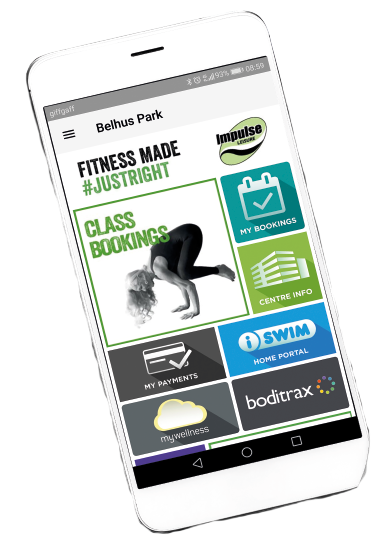 App FAQs
There are a few reasons why you are not recieving your reset email, these include:
You are using a different email address than the one registered on your Impulse Leisure membership
You do not have an email address registered on your Impulse Leisure membership
You have a joint or family membership where one or more adult member on the account is using the same email address. This will confuse the booking system as to who on your membership is trying to create an account.
If you are experiencing any of the above, please contact your local centre or email us at This email address is being protected from spambots. You need JavaScript enabled to view it. with the email address you wanted added onto your account and if on a joint or family membership the full name and seperate email addresses of those ont he account.
Once, we have updated these on the system, you should be able to reset your password.
Your Member ID is an unique number generated by our membership system to match you to your membership account. If you are trying to reset your password and it asks for your Member ID prior to you submitting the request and you do not know your Member ID, please email This email address is being protected from spambots. You need JavaScript enabled to view it.
Please do NOT input your IMP number from the back of your membership swipe card as this will not be recognised and you will not receive your reset email.
You may be asked for your Member ID before you are able to submit a request to reset your password.
If you are asked for a Member ID and have not got yours please contact your local centre or email us at This email address is being protected from spambots. You need JavaScript enabled to view it..
If you have used our app before to book classes then your Member ID is the login number that you previously used before we switched to email addresses.
If you have recieved an error message advising you that your account is locked, please contact your local centre or email This email address is being protected from spambots. You need JavaScript enabled to view it. and we can unlock your account.
Please note, once we have unlocked your account you will need to re-submit your request to reset your password before you are able to book sessions.
If you have received your reset email where you can create an account, but the link is showing you an error, this may be because your link has expired. Please ensure that you have clicked your link within 20 minutes of receiving the email. If it has been longer than 20 minutes please request another reset of your password.
If you have turned 16 during our closure period and are experiencing issues including not receiving your reset link or an error message when booking, please can you contact your local centre or email us at This email address is being protected from spambots. You need JavaScript enabled to view it.
To freeze your membership you will need to contact DFC who are our payment partner for collections and notify them that you wish to continue to freeze your account. You can contact DFC at This email address is being protected from spambots. You need JavaScript enabled to view it..
Please note we have had lots of members get in touch via Facebook messenger and email. We are working through these as quickly as we can to respond to everyone, but due to the volume of queries there may be a slight delay in our response. Thank you for your patience.